Moku Kitchen Brings 'Upcountry Downtown' to Kakaako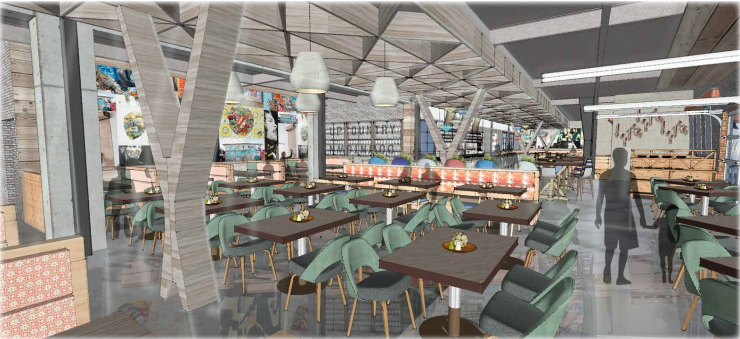 Creating an "upcountry downtown" vibe, Moku Kitchen will blend the best of both worlds as the latest addition to SALT. Handcrafted Restaurants LLC offers a new kind of dining experience for Honolulu foodies. Inspired by Chef Peter Merriman's passion for made-from-scratch cooking using locally sourced ingredients, the new restaurant will open its doors to patrons at SALT on Wednesday, October 19, 2016.
"Moku Kitchen incorporates the rich heritage of farming and ranching in Hawaiʻi into contemporary cuisine, blending the past with the present, which complements the vision of our developing business community perfectly," said Kelley Nakano, General Manager of SALT. "SALT is proud to be an avenue for both innovative and creative representations of urban Hawaiʻi that at the same time honors the traditions of our past, and we are excited to have Moku Kitchen as the newest addition to our thriving community."
Having achieved an immense amount of success with the establishment of the much loved Monkeypod Kitchen—which has locations in Ko'olina, Oʻahu and Wailea, Maui—Moku Kitchen will continue in the tradition of making everything from scratch. The concept for the new restaurant is simple, but refreshing: Bring "Upcountry Downtown"—using fresh, locally-sourced ingredients. The unique, chef-driven concept features a visible kiawe wood burning pizza oven, an exposed expo rotisserie roaster, and a menu of flavorful dishes and local favorites such as Saimin and Dry Mein that everyone will enjoy. Additionally, Moku Kitchen offers 36 craft beers on tap served at 29 degrees, and is home to an incredible keg wine systems, with 12 biodynamic and sustainable wines available on tap.
With over 7,000 square feet of open space, both indoor and outdoor seating, a daily offering of live music, and a breathtaking mural by Pow! Wow! Hawaiʻi's own Kamea Hadar in the backdrop—Moku Kitchen is a place where food connoisseurs can come together to sample mouthwatering dishes in a dynamic setting. Standout menu items include Rotisserie Roasted Duck with Ginger and Shoyu, Ma'o Organic Farms Kale Salad, a Pulled-Pork Sandwich with Homemade BBQ Sauce, and a wide selection of kiawe wood fired pizzas.
SALT is an exciting development brought to life by the eclectic and diverse community of retail shops, cafes, bars, and restaurants that thrive in this innovative epicenter. Every tenant is specifically curated, and contributes immensely to this flourishing new neighborhood that is reinvigorating Honolulu. Moku Kitchen—along with other business owners, residents, artists and creatives at SALT is helping to reclaim urban Hawaii through innovation and imagination, and all of O'ahu is invited to come experience "Upcountry Downtown" in the heart of Kaka'ako. For more information on Moku Kitchen, please visit: www.mokukitchen.com, on Facebook at Facebook.com/MokuKitchen, or on Instagram @MokuKitchen.
About SALT
Named after the pa'akai (Hawaiian for "salt") ponds that once dotted the low-lying wetlands of this area, SALT is Honolulu's innovative epicenter for local culture, food, shopping, and events. Comprising 85,000 square feet of a dynamic mixture of local small business and national brands, SALT is an urban city block designed for exploration and engagement for retail, restaurants, and services. This groundbreaking gathering place in the heart of Kaka'ako is where new makers and new ideas converge.
Owned by Kamehameha Schools, revenues generated from SALT fund educational opportunities for more than 48,000 learners and caregivers annually through three campuses on the O'ahu, Maui, and Hawai'i island; 30 preschools statewide, literacy instruction and support in more than 200 public school classrooms; financial and educational support for 17 Hawaiian-focused public charter schools; and collaborations with 50 additional organizations throughout the state. www.saltatkakaako.com
About Handcrafted Restaurants LLC
A partnership between Hawai'i Regional Cuisine founding Chef Peter Merriman and Restaurateur Bill Terry, Handcrafted Restaurants LLC is a multi-concept restaurant company that is dedicated to operating world-class, full-service restaurants in premiere cities and resorts. Handcrafted Restaurants LLC celebrates the craft of food, drink and merrimaking while integrating itself into local communities by supporting local farmers and fishermen, creating new jobs, and keeping impact on the environment as minimal as possible. Handcrafted Restaurants LLC seeks to develop connections between residents, guests, the land, and one another by focusing on locally sourced ingredients, sustainable business practices, and socially conscious values.