Hawaii solar energy firm selected for Apple Impact Accelerator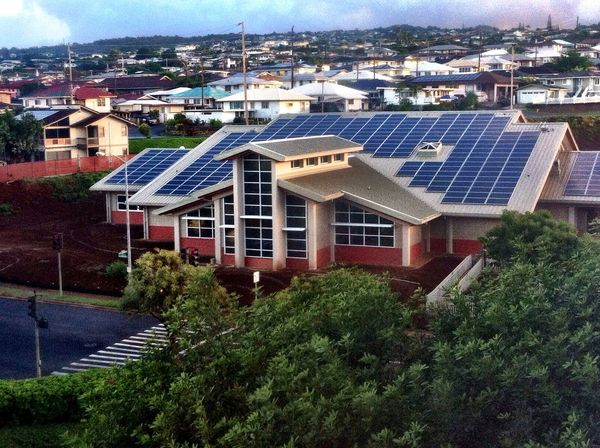 The Hawaii Geek Meet returns on Sunday, Sept. 25 at Magic Island. Bring your beautiful family and brilliant friends to tour a "geek village" of science, tech, and creative local communities! You can RSVP and share the event on Facebook!
Paul Orem has been working in construction and electrical contracting since he was a teenager. He's about to turn fifty years old, with decades in the industry—not the typical profile for a founder enrolled in a startup accelerator.
But with his personal commitment to renewable energy, and the help of a local entrepreneurship center, he's now part of the second cohort of Apple's new Impact Accelerator, which envisions a carbon-neutral future built with the help of minority and indigenous stakeholders.
A lifetime of building
"I grew up in Southern California, but moved here when I was 20 years old, and I've been in the construction industry my entire life—ever since I was about 12 years old," he said.
That was also when he started visiting Hawaii regularly as an avid surfer, and to work and visit with family.
"My dad grew up here, and his dad was in the military, stationed at Kāneʻohe, and I just loved the place, that's home for me," he said.
Orem cut his teeth on local construction sites through the 1990s and early 2000s, quickly gravitating toward electrical work. He had the opportunity to work on several large jobs, including military construction projects.
"In 2008, I pretty much got bored and then started my own company, doing renewable energy projects as Pro Circuit Solar," he recalled.
When that company was acquired to form a Native Hawaiian Owned (NHO) small business under the Small Business Administration's 8(a) program, Orem formed PhotonWorks Engineering as a subsidiary. And that's where he's been focused ever since.
"We're what you call a local EPC contractor—engineering, procurement and construction—and we really started doing projects in 2009," Orem said. "We've done about maybe 35 megawatts of projects here, mostly commercial projects, but we've done some residential, and we've also had operations overseas, at Kwajalein Atoll, for about eight years."
The business saw ups and downs over the years, employing anywhere from 30 to 150 employees. But the pandemic brought about an entirely different economic reality, prompting Orem and his team to wrap up their work in the Marshall Islands and regroup in Hawaii.
That was also when Paul connected with the Minority Business Development Agency (MDBA).
Another success story
The Honolulu MBDA is part of a national network of business development centers funded by the U.S. Department of Commerce. The Hawaii center is hosted at the University of Hawaii at Manoa, in partnership with the Shidler College of Business.
"I sometimes compare us to the Small Business Agency, because we do a lot of that kind of work with people who are socio-economically disadvantaged," said MBDA business development specialist Dre Childs. "While you have to be a minority to be a client of ours, it's a little more broad because we assist veterans, women owned business, or someone like Paul, under 8(a), which is a set-aside for the socio-economically disadvantaged."
Childs says that the MDBA often works with more established businesses rather than startups.
"We do a lot of certifications, but our sweet spot is basically procurement, helping minority-owned businesses be able to procure contracts with local, state, and federal governments," she said. "Our goal is to help companies expand and be able to broaden their reach and find a pathway to success."
And Childs was bullish on Orem's prospects.
"Especially right now in renewable energy, it's just a great time for a company like his to really make an impact on our community—especially with climate change and different initiatives happening with the government," she said.
Working with Orem and his company is a "win-win situation for everybody," according to Childs, as the business can continue its mission, be profitable and grow, and meanwhile be an economic driver in the local community.
News of the Apple Impact Accelerator came down from the main MBDA office in Washington, D.C.
"I was like, 'Oh, this is like, perfect for for a company like Paul's,'" Childs recalled. "Especially since Hawaii is trying to be more sustainable and not so dependent on tourism, and with COVID, it's been a big, strong focus of ours."
Making the cut
The Apple program—or any accelerator program—wasn't even on Orem's radar.
"I was actually working with the MBDA to work on getting certified," he recalled. "I couldn't do it with PhotonWorks, ownership wise, so I had to go back to the beginning to certify Pro Circuit Solar instead."
The MDBA helped Orem complete the application, and Apple promptly called to schedule an interview.
"I was on going on vacation for a month, so they squeezed me in right before I left," he recalled. "So I did an interview, and I just told them about who we are what we're about."
Which is?
"Just that our passion is renewable energy and helping Hawaii achieve it's 100% renewable goals, fight climate change, and give back to the community where we can," Orem said. "I think that's one of the reasons why we were chosen."
And that passion extends beyond business.
"I'm a surfer, and we're environmentalists, and I just care a lot about the environment and making sure that we leave this place better than we found it," he said.
"It just baffles me that we just continue to burn oil and pollute our air and water—it's all going to run out someday, so why aren't we transitioning now?" he asked. "It's just mind boggling that we would still be so short sighted and not protect our Earth."
After providing additional information to Apple, Orem was notified that the program was starting—and he was included.
"Apparently it was a much bigger deal than I had initially thought," Orem said. "There were over 200 companies that applied, and we were only one of 16 that made the cut."
Apple's innovation objectives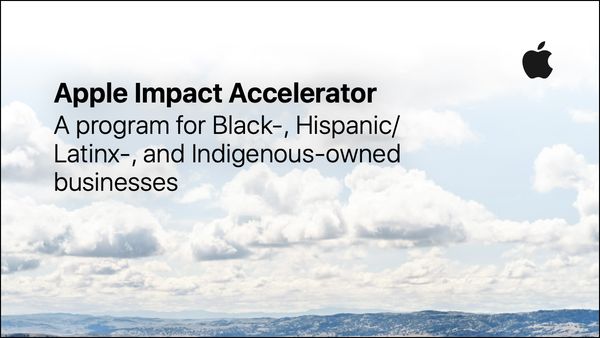 Read the program brochure here.
The Apple Impact Accelerator is part of the company's $130 million Racial Equity and Justice Initiative, which is set aside to increase access to equity in education, elevate more technologists from underrepresented backgrounds, and invest in criminal justice and environmental justice organizations.
"Most of it the accelerator program is focused around environmental issues, climate change, and whatnot," Orem said. "Our next session is finding out more in detail about Apple's renewable energy initiatives and their goal to be carbon neutral across their entire supply chain."
The company says it wants to make sure the investments it makes in protecting the environment "also help fight systemic barriers impacting communities that are disproportionately affected by environmental issues like climate change."
Described as a three-month "capacity-building program," participants will receive business training, executive coaching, access to Apple executives and decisionmakers, and membership in a growing alumni network.
Also, Orem gets some Apple products to use in his business.
"They sent us like laptops and iPads and stuff like so that was really nice," he said. "Some of the homework that we have to do is use Keynote, so the the next session is how how to use a Mac for business."
Apple says successful participants will have the opportunity to "contribute to one or more of Apple's environmental priority areas."
That's no small opportunity.
"It's going to culminate in this demo day, which includes a half-hour sales pitch of what services we can offer them and how we can help them achieve their goals, and hopefully get on a short list of bidders for future projects," Orem said.
"Apple is a big enough company that the opportunities are basically endless for a company like mine—we would never outgrow that customer," he added.
Header photo: Aiea Public Library and its 84KWh solar energy installation. Photos courtesy PhotonWorks Engineering and Hawaii MDBA.