National security nonprofit expands island footprint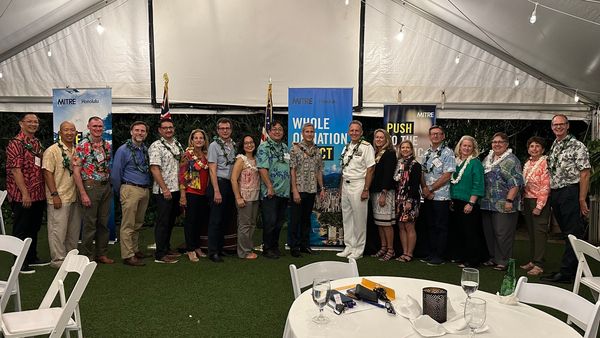 If you're reading Hawaii Bulletin on the web, thank you! But you don't have to work nearly that hard. Get each article delivered fresh and direct to your inbox by subscribing to the email newsletter!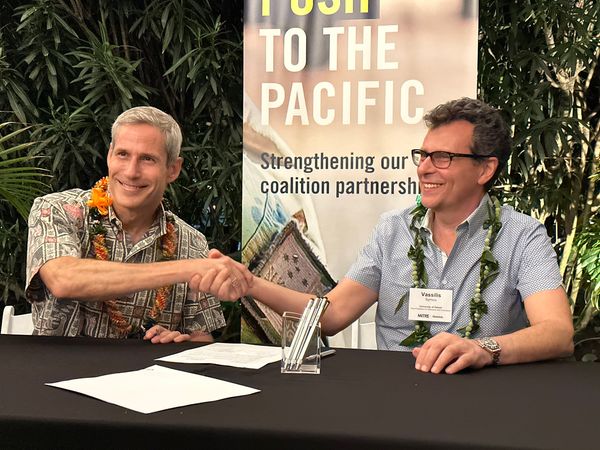 Keoki Jackson of MITRE and Vassilis L. Syrmos from UH.
MITRE has been described as "the most important company you've never heard of."
Spun out of the Department of Defense-funded Lincoln Laboratory at the Massachusetts Institute of Technology in 1958, the nonprofit organization has been quietly focused on security innovation for more than 60 years.
MITRE's fingerprints can be found on the FAA air traffic control system, the GPS system, and aircraft-mounted radar systems like AWACS. MITRE works with drones and develops anti-drone technology. They've worked on key systems for the GSA, SEC, NIST, and dozens of other federal agencies. And everyone in the security space is familiar with the ATT&CK Framework, a "common knowledge" reference to assess and respond to adversarial action.
And, for most of its history, MITRE has also been at work in Hawaii, with operations based at Building 39 on Ford Island and at Camp Smith in Halawa Heights.
After more than 50 years tucked away on military bases, MITRE announced this week that it would be establishing an official corporate headquarters in Kakaako, and signed a cooperative agreement with the University of Hawaii.
More on MITRE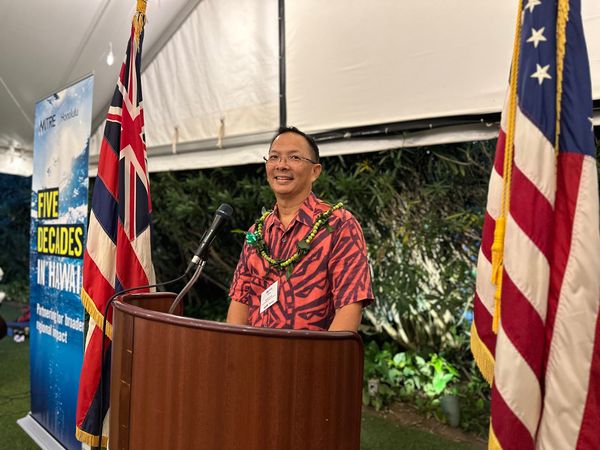 Byron Leong is MITRE's longest tenured member in Honolulu.
MITRE—which is not an acronym, but is instead a name that "meant nothing but sounded evocative"—is a unique organization, filling the unique gaps between the public, private, and defense sectors.
"For more than 60 years, MITRE has operated federal federally funded research and development centers, or FFRDCs," explained Jan Tighe, a retired United States Navy vice admiral and member of the MITRE Board of Trustees, at a reception earlier this week. "These are a special class of research institutions intended to support federal agencies with research and development that cannot be effectively accomplished by the government or the private sector or academia if they are operating alone.
"Bringing those institutions together is it is really MITRE's sweet spot," she said.
Specifically, MITRE operates six of 42 FFRDCs, which employ over 7,000 scientists, engineers, and technologists across 200 laboratories.
"Moreover, the company doesn't compete within this industry," Tighe clarified. "MITRE is uniquely positioned to connect and convene government, industry, and academia to collaborate and find data-driven methods to face potential threats."
And those threats are widely understood to be shifting rapidly in the Pacific Rim.
"Through the establishment of the new office in Honolulu, MITRE is seeking to broaden its partnerships with the US Department of Defense and academia to solve military problems, economic problems, and social problems that threaten the stability of the Indo Pacific region," she said. "This challenge is definitely in MITRE's wheelhouse—it's our bread and butter."
A local connection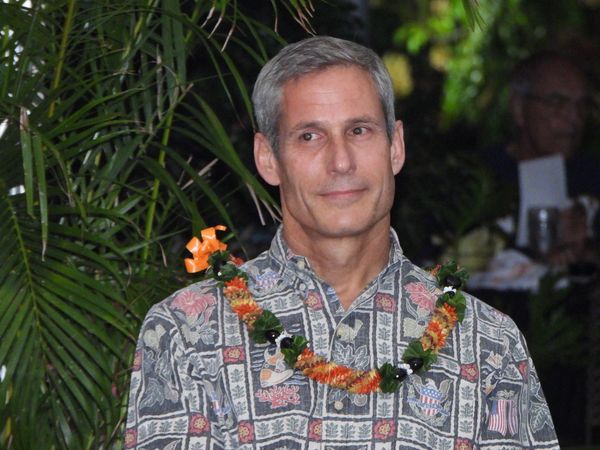 Keoki Jackson leads strategic growth and execution of MITRE's national security programs.
Given Hawaii's strategic geopolitical position, it makes sense that MITRE had and is expanding its presence here. But for Keoki Jackson, Senior Vice President and General Manager of its National Security arm, the new facility represents a homecoming of sorts.
"I grew up here on Oahu, on the North Shore and right here in Honolulu, my parents are here, and my oldest friends," Jackson said. "I'm here often, and I know how central Hawaii is to our nation's security and to the security of the Indo Pacific."
He noted that the island is crowded with landmarks like the U.S.S. Arizona Memorial that remind everyone about the need for vigilance and security.
"When I was a young Boy Scout, the flags that I planted on many Memorial Days at Punchbowl—the National Memorial Cemetery the Pacific—reminded me of our sacred obligation to carry on the work of those who made that ultimate sacrifice to fight aggression and tyranny," Jackson said.
He said the opportunity to expand local partnerships and contribute more directly to the Hawaii community was "personally very meaningful."
"The establishment of this new MITRE office is a recognition of the seriousness of our time, but also of the tremendous opportunities right here in Honolulu to make this a safer world," he said.
Building opportunities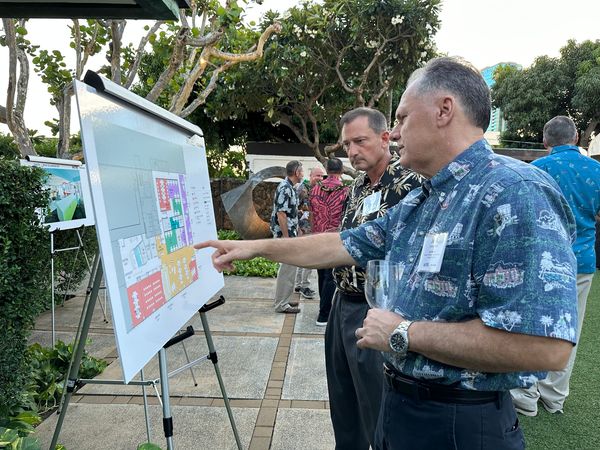 Guests look over plans for the new MITRE Honolulu facility.
The build-out of the $10 million MITRE facility, located in the old Gold Bond Building at 677 Ala Moana Boulevard, has only just begun.
"The new facility will include a state-of-the-art laboratory environment for prototyping and rapid development, including modeling and simulation of system solutions," Jackson said.
MITRE also plans to host collaborative sessions, meetings and events that span all of MITRE's project areas.
"This includes not only defense, but also in areas like 5G and 6G, cybersecurity, law enforcement, healthcare, aviation, transportation, and beyond," he said. "In this way, MITRE hopes to directly contribute to the economic prosperity and diversification here in the state."
MITRE will be located within a couple of blocks of the Entrepreneurs Sandbox, the flagship facility of the High Technology Development Corporation, filling out what HTDC calls the Kakaako Innovation District.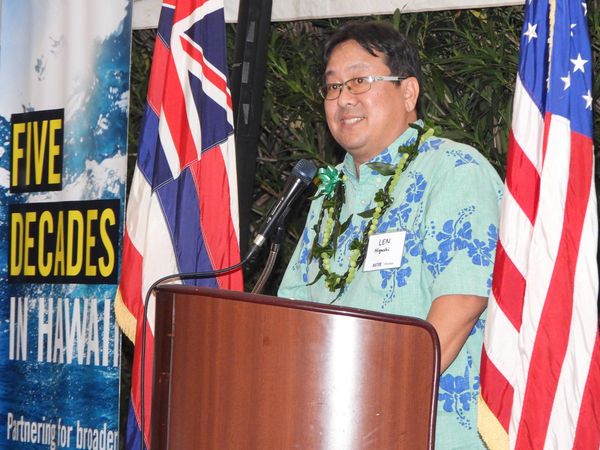 Len Higashi hopes MITRE helps HTDC "create lots of good paying jobs here."
"We're particularly excited that you chose to be our neighbors," HTDC acting executive director Len Higashi said. "Your choice of a new office sends a strong signal of your commitment to Hawaii."
Higashi noted that both HTDC and MITRE share the same goal of "creating lots of good paying jobs" in Hawaii.
"Over the next three years and beyond, we plan to double our local workforce—and I think it might happen a little quicker than that, from what I heard yesterday," Jackson said.
"We are creating great technical jobs here, advancing internship opportunities and local STEM education possibilities," he said. "These new teammates will be the engine of our efforts to bolster security and prosperity, not just here, but throughout the Indo Pacific region."
On hand to speak to MITRE's recent contributions to local defense was Rear Admiral Michael Vernazza, the first commander of the new Fleet Information Warfare Command Pacific, which is responsible for plans, coordination, and direction of information-related capabilities for the Pacific Fleet.
"We have a wonderful relationship with MITRE, which began five years ago in supporting our resilient command and control efforts," Vernazza said. "It's been a fantastic relationship that has produced significant outcomes for our Navy and nation and we're excited about 2023."
He also noted the boost it would bring to the local workforce.
"This facility will help bring more STEM expertise, attract top talent, and foster an environment of academic rigor here on Oahu," he said.
Joining forces with UH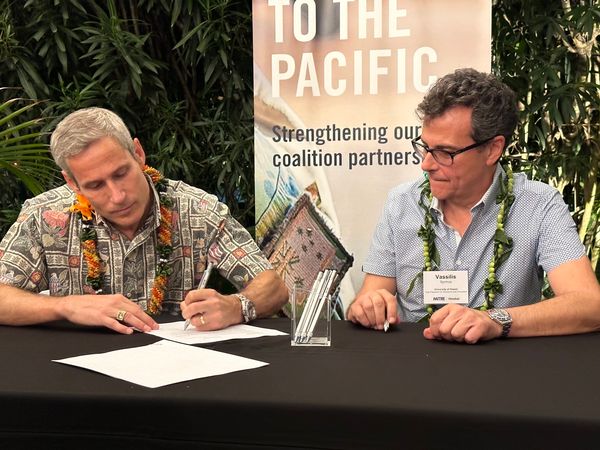 Keoki Jackson and Vassilis L. Syrmos sign the MITRE-UH partnership agreement.
One of the first formal acts of the newly announced MITRE Honolulu office was the signing of a strategic agreement with the University of Hawaii to identify possibilities for joint research and collaboration.
Jackson said the partnership will explore many new technologies, "including natural resource management, and testing new energy technologies.
"With UH we've identified our first joint project we'll be starting right away but that will continue all the way through 2023, addressing freshwater availability in Hawaii, which affects communities all around our islands," he added.
The relationship will be managed on the UH side by the Office of the Vice President for Research and Innovation with support from its Office of Innovation and Commercialization. (The office I wrote about just last week!)
According to UH, MITRE will help connect university-generated technologies with federal agencies to help accelerate commercialization and "move impact-driven UH innovations from the lab to the market."
Other areas of interest include UH health initiatives, data and health analytics, coastal engineering and coastal infrastructure resilience, data science and cybersecurity, aerospace engineering and "blue tech"—ocean science and engineering.
UH Vice President for Research and Innovation Vassilis L. Syrmos said in a statement:
"Partnering with MITRE provides a wonderful opportunity for UH to translate our world-class research into real-world solutions for the benefit of our state and beyond. We look forward to having access to MITRE's impressive expertise and reach that will strengthen the UH research enterprise and help to grow our economic and knowledge-based sectors in Hawaii."
Julie Bowen, MITRE's Senior Vice President of Operations and Outreach as well as Chief Legal Officer, closed the evening with a toast.
"There is a Hawaiian proverb which says, ʻAʻohe hana nui ke alu ʻia—no task is too big when done together by all," she said. "Let's stay on this course and collaborate until we achieve success… success is security and prosperity in and from Hawaii."
"To the power of strong partnerships, which drive real challenge, change, and provide real impact," Bowen concluded.
Mahalo to Bernice Glenn Kissinger for engaging me to help take photos at MITRE's Honolulu reception!